The British Hernia Centre opened its doors in 1989 as the first Specialist Hernia Centre in the UK and Europe. We now have well over a quarter of a century of specialist experience in treating hernias and during that time we have treated many tens of thousands of patients under one roof, more than any other single Hospital/Unit.
Education and Press
The British Hernia Centre is one of the world's few leading faculties specialising in hernia. Apart from arranging training and conferences for surgeons from around the world, The British Hernia Centre regularly provides material for the world's press and television on the subject of modern Hernia Surgery. The Centre's surgeons have also published more academic papers on larger studies than anybody before us.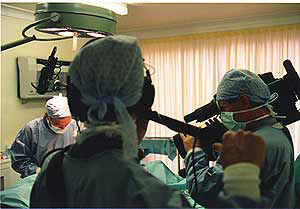 The BBC Filming at The British Hernia Centre
Click HERE for a word from the founding Director and CEO of The British Hernia Centre.